2020
Digital Civilization
The VII edition was purely digital and named after our current world view "Digital civilization".This two days were all about the digital transformation we live in where technology in the centre of the creative panorama.

Dia Studio, Paloma Rincón, Sometimes Always, Isabelle Udo, Chocotoy, Studio Mut, Ausias Pérez, Alexandra Zsigmond, Paranoidme, Requena Office, Óscar Hormigos, Querida, Human After All. Brief on Stage (Dropbox event): Madge ft Inés Alpha, Mwami ft Tina Touli, Late Verlane ft Genie Espinosa. Special Edition in collaboration with Étapes: Koln, Tyrsa, Ingrid Picanyol, Margot Leveque, Olga de la Iglesia, Laurent Fetis.
2019
A-temporal

The VI edition of the festival revolves around two main themes: the constant principles that make up the invisible aspects of design (like theory, functionality and methodology) and on the other hand, the trends that have a key role in marking certain moments within the industry.
Wade & Leta, Javier Jaén, Serial Cut, Summa Branding, Device, Cabeza Patata, Rebeka Arce, Bartholot, Le Cube, Boldtron, Futura, Supperstudio, Trizz, Takk Architecture, Juan Díaz-Faes, Diego Areso, Buba Viedma, Mar Abad, Ladies, Wine & Design, Meet a Designer, Rode Molins, Isabelita Virtual, Jeffrey Ludlow, Saar Friedman, Pablo Amade, Club de Creativos, Lucía Fernández Múñiz, José Luis Esteo, Uxi Henkes…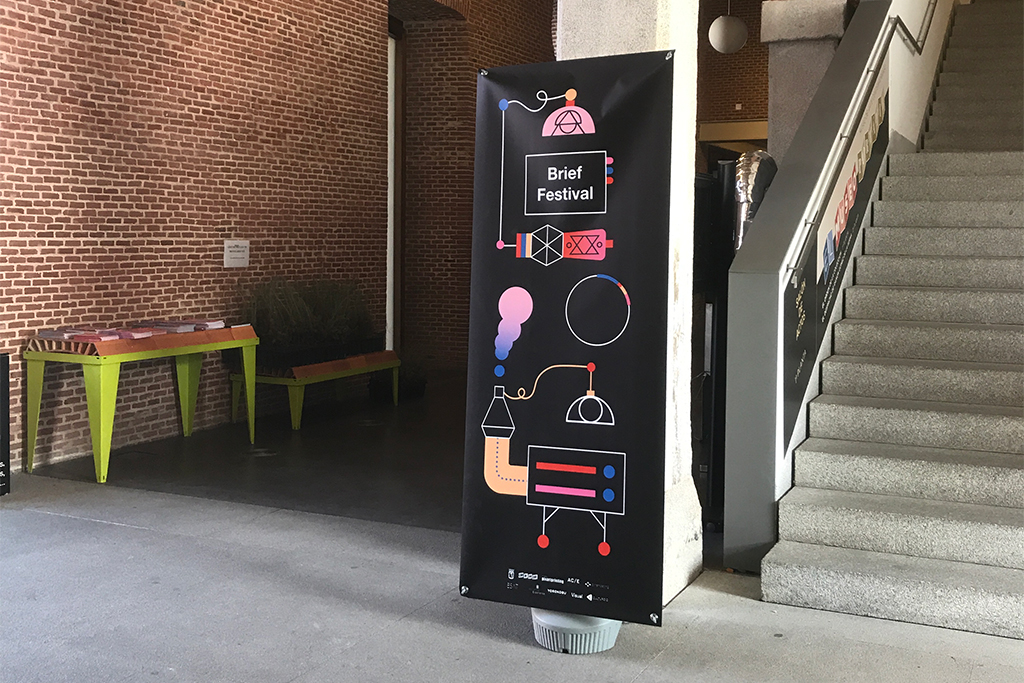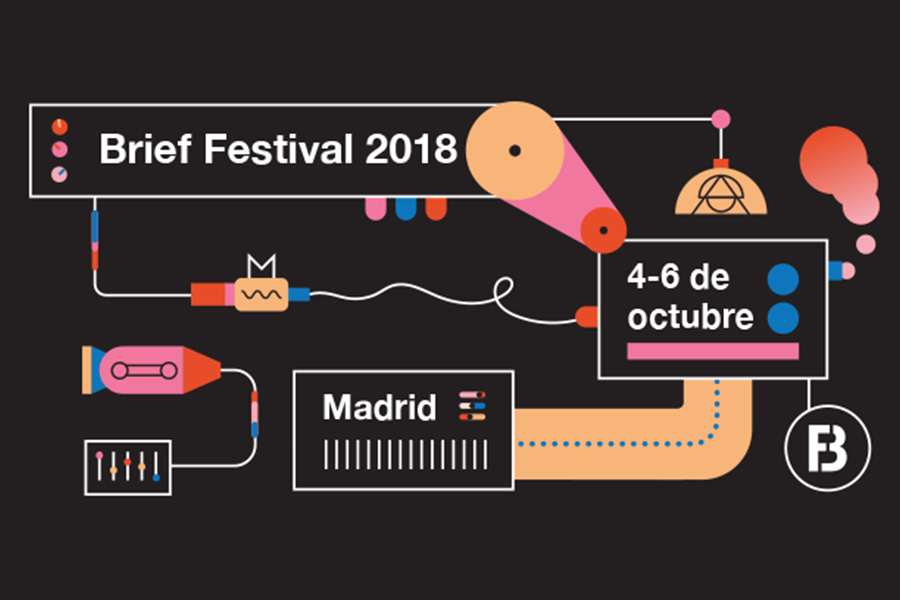 The V edition's leitmotif in all the conferences and activities was the Greek logos (λóγος). We wanted to propose a reflection on the rationality of our work as creatives. What role does logic play when we design? What rational motivations guide our creativity?

Toilet Paper Magazine / Micol Talso, Pentagram / Marina Willer, Pleid, Owen Gildersleeve, Toormix, Saffron, Hey Studio 36 Days of Type, Rik Oostenbroek, Wasted Rita, TAVO, Wieden & Kennedy, Apéritif, Solimán López, Birgit Palma, Juan Cris Vera, Huda Abifarès, Khatt Foundation, Ditroit, Degrau, Miriam Persand, Iñaki Martikorena, Beatriz Moreno, Vasco Vicente, Gabor Schreier, ESAT, Sociedad Collage de Madrid…
2017
Solid as a Rock!
The theme of the festival's fourth edition was a warning through projects and methodologies of the guests. Conversations revolved around how good design that rests on a solid base endures through time.
Malika Favre, Lotta Nieminen, Vallée Duhamel, Six N. Five, relajaelcoco, Noelia Lozano, Foreal, Fragmento Universo, Erretres, Pep Carrió, Marco Creativo, Jing Zhang, Plenty, Sebas, Mercedes Bellido, Mr. Cup, Emme Studio, Designit, Instinto Salvaje, Vajo, Ultramarina, Monsters Pit…
2016
N.P.C
The third edition revolved around personal projects carried out by professionals in the creative sector. Designers create these personal projects to bring them to explore many different aesthetic and technical aspects that strengthen and nurture their creativity. Often these projects have a very positive influence not only to develop their own style but to lead to commercial projects in that direction.

Annie Atkins, Gestalten, Gemma O'Brien, Design Indaba, Violaine et Jérémy, SOPA, The Art of the Title, Hedof, Interbrand, Hattie Newman, relajaelcoco, Jorge Artola y Peter Cobo, N/A Studio, Bart Aalbers, Sven Ehman, Play Restart, Katie de Klee, Iván Solbes, Lara Costafreda, Jean Jullien, Super Super, Juan Díaz-Faes, Veintidós Grados, Borja Borrero…
2015
Graphic month
The II edition was celebrated during a whole month in Madrid, Spain. More than 25 places collaborated and got involved with activities organised by the festival.
Tyrsa, Taschen, Shotopop, Paloma Rincón, Hellohikimori, Hey Studio, Puño, From Form, Spin Studio, Noma Bar, TAVO, Emilio Gil, relajaelcoco, Alvaro Sobrino, Julius Wiedeman, Clara Montagut, Bartholot, Clara Montagut, Michaël Chaize, Solimán López, Tony Brook, Jesús Micó, Cuadernos de la Kursala, relajaelcoco, Rodrigo Dorsch, Espada y Santacruz, Sopa de sobre, Social Noise, Manuel Fontán del Junco, Sofía González, Delfina Morán, Sociedad de Collage de Madrid, Show Us Your Type, Ultranoir…
2014
First edition

Brief Festival's first edition was born as an essential cultural and professional event for the world of design.

Serial Cut, Clara Montagut, relajaelcoco, Cruz Novillo, Sign Painters, User T38, Jorn Grosshans, La Eriza, Tony Yagüe, Javier Márquez…